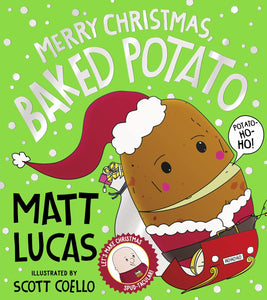 The brand-new and brilliantly funny Christmas picture book from multi-award-winning actor and comedian MATT LUCAS – star of The Great British Bake Off and creator of Thank You, Baked Potato.
If you look high up in the sky
(I'm talking higher than a parrot)
You'll see a root veg flying by
(and no, I do not mean a carrot) …
Join Santa Baked Potato as he makes Christmas wishes come true (and delivers plenty of presents!) in this fun-filled, festive follow-up to the chart-topping Thank You, Baked Potato.
Accompanied by a spud-tacular Christmas song, composed and performed by Matt!
* With fabulous festive foil on the cover *